a rant! a reel! (2019 - )
select moments of publicness in an ongoing project.


some details from
a rant! a reel!
at Cubitt Gallery and curated by
Languid Hands
.
Photos by Vanessa Peterson, 2021
holus - bolus, 2021

HD video, 7min39sec, 2021

rehearsed by Nima Séne; narrated by Shola von Reinhold; figured by Sulaïman Majali with sound by 皚桐

Commissioned as part of What happens to desire... cur. Tako Taal as part of Edinburgh Art Festival 2021.

Supported by the Scottish Government's Festivals Expo Fund and EventScotland. Our Commissions Programme is kindly supported by the Patrons of our Commissioning Circle.
holus-bolus, is inspired by the tellings and re-tellings of the life and death of

William Davidson (1781 – 1820)

. Conspirator, radical or wrongfully convicted, Davidson was the son of a Scotsman, the Attorney General of Jamaica, and a black woman. He studied mathematics at Aberdeen University and later became a cabinet maker. In 1820, Davidson delivered an 'eloquent and unsuccessful' speech to court during the trial for his alleged involvement in the Cato Street Conspiracy (a radical plot to assassinate cabinet ministers and the Prime Minister). Throughout the trial, Davidson maintained his innocence, claiming he'd been mistaken for another man of colour in the area at the time.
Empire of Love, 2020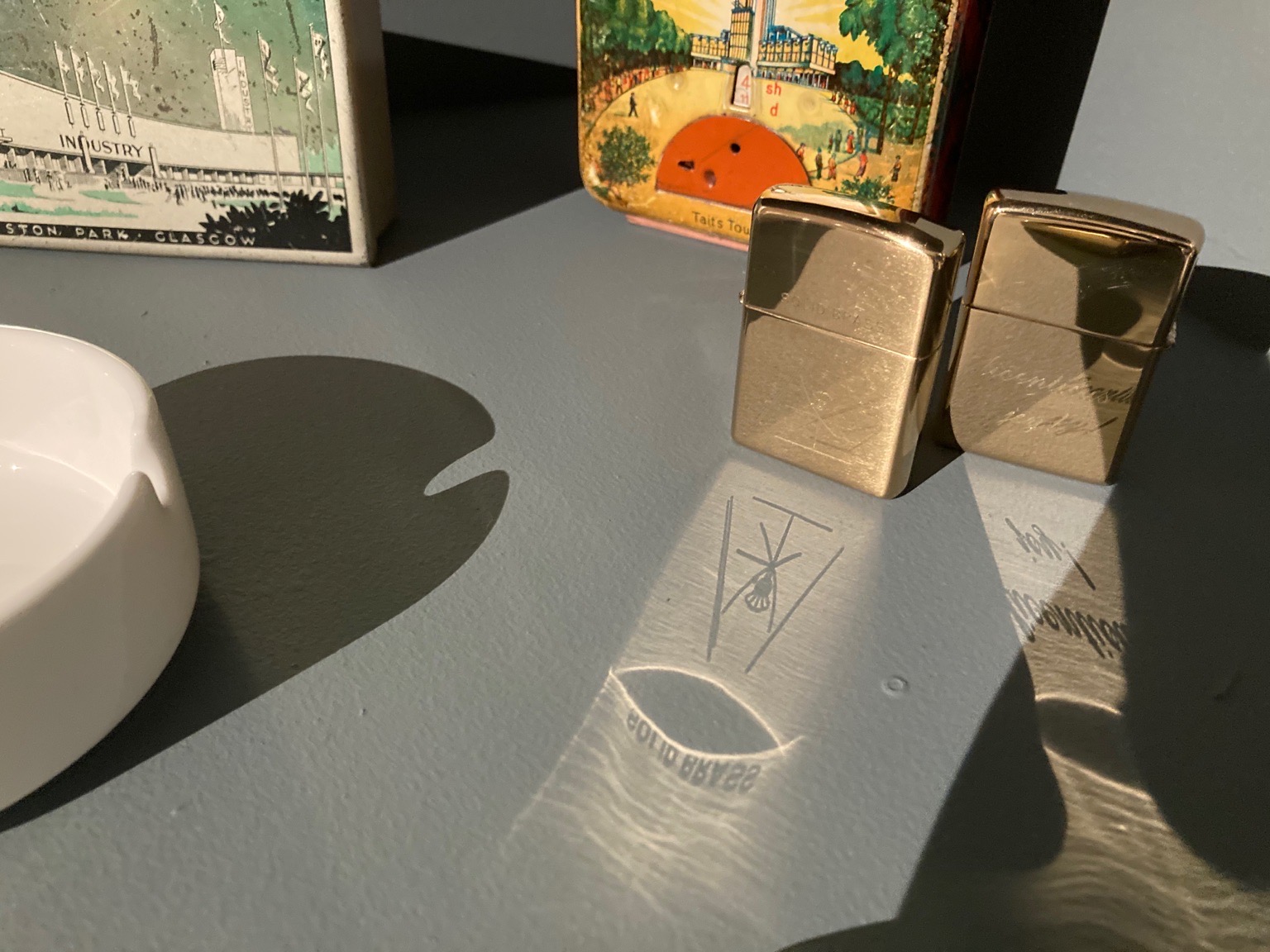 series of six engraved solid brass Zippo® lighters, edition of 2.

Empire of Love was commissioned by the Gallery of Modern Art Glasgow for the exhibition, Domestic Bliss. The lighters are engraved with text retrieved from James Boswell's 1791 poem, No Abolition of Slavery, or the Universal Empire of Love and a motif informed by research into histories of abolition and apologia in Scotland.

Images courtesy Katie Bruce and Glasgow Museums.

HYSTERIA!, 2020

film still
, (HYSTERIA)!
2019, digital video, 4m52s | Sound design by Francis Dosoo
(HYSTERIA)!
2019 installed and Francis Dosoo performing as part of
HYSTERIA
at David Dale Gallery.
HYSTERIA was a night produced as part of Non-Fiction, a series of events by Rhythm Machine at David Dale Gallery, July 2019, Glasgow.
Images courtesy Olly Gears.
screaming by citation, lol ur so drama, 2019

2 channel video installation; a precarious hanging; black cling; post-it; text; Auld Lang Syne by The Black on White Affair; A Scottish Landscape by Robert S.Duncanson 1871; African and Caribbeans in Scotland: A socio-geographical study by June Evans 1997; William Davidson and rumours of quartering and quicklime.
that my dear old mother would never know me,
2019, Sulaïman Majali
Digital print of Robert Scott Lauder's painting of David Roberts 1840 (in Arab Dress) without side whiskers, paste;
faux gilded frame, mirror, paintings of the Prophet's Mosque and the Grand Mosque of Makkah
something vague and irrational
, Celine Gallery, 2019 w/
Sulaïman Majali.
echoes, 2018 - 19
'echoes of a Black _____' performance development
Residency, National Theatre of Scotland's Starter Programme (supported by the Esmée Fairbairn Foundation).
In residence at Rockvilla, National Theatre of Scotland focused on thinking through and with illegible archives and misleading academic texts towards the development of a new piece of performance, echoes of a Black ____ that used gossip and debris to visualise Black queer encounters in Scotland in the period 1820 - 1945.